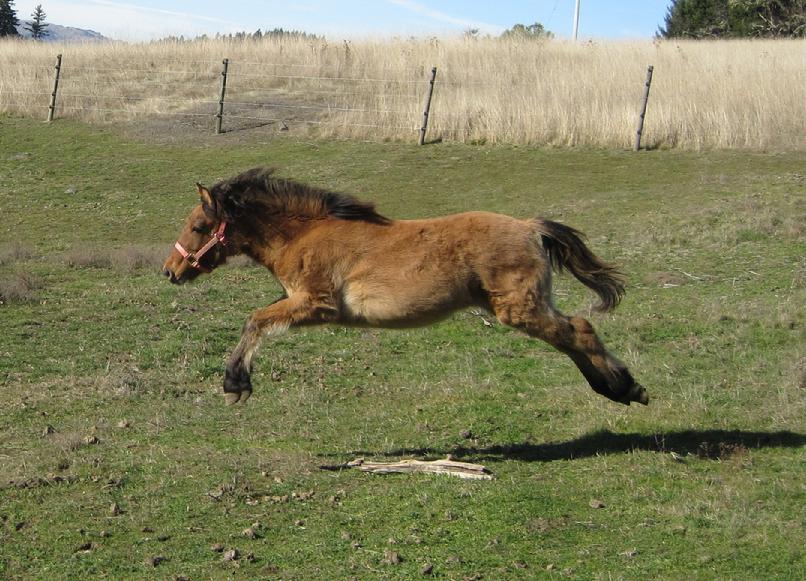 The Flying Highland 'Hamara of McClellan'
2016
Our plan was to have Fionchoire spend the summer with A'Bhaisteir to have a foal in 2017. By August we realized that after they had spent part of the previous late fall/winter together she would be producing in the fall of 2016!! At the end of October she had Lussa of McClellan during a heavy rain storm, thus the nickname of "Stormy" for the baby.
2015
In June Ceol Beag Fiaray (on-loan to us since 2012) had a colt foal. A'Bhaisteir of Talisker is the sire, this is the first colt born on our farm. As he is yellow dun his name is Carhartt of McClellan, named after the work jackets. Having been conceived around the 4th of July, his stable name is Liberty.

2014
Fionchoire foaled on Midsummer's Night, a little filly. Her name is Samhradh of McClellan, her stable name is Summer. She is very well named as she loves the sun! Her color is yellow dun like her parents.
A'Bhaisteir has sired another filly born in Nevada this spring. All his hard work last summer is producing results!
2013

A'Bhaisteir has had a busy time with 4 mares demanding his attention. Our mare, Fionchoire, should be foaling next summer. After visiting last summer, Ceol Beag Lismore has had a filly for Trinity Glen Highlands in Reno.
In December the County signed off on our house. While it is not totally completed, it's getting very close!

2012


Still working on the house, which is getting better and better. Also we have started cleaning up the forest behind the house to decrease our fire danger. The good news is we have this year's firewood cut and stacked, possibly next year's as well.

As for the Highlands, last year's foal, Hamara, is growing up to be a beautiful and very sweet girl. She and Bonny the donkey are best friends, do everything together.

Last year Bridget of Moonshine Glen spent the summer with A'Bhaisteir, this summer she had a colt foal, Shenanigans of Trinity Glen. This year he is entertaining Ceol Beag Lismore and her half sister, Ceol Beag Fiaray. Lismore is here for a couple of months but Fiaray is visiting for two years. Hope to have more news of the sisters next year!
Work on the house continues, as it will for a long time to come. We moved in mid-July, just slightly less than a year after starting. There is a lot of work to be done but it is easier now that we are on-site rather than commuting up the hill.
On June 1st Flo had a gorgeous little filly foal. Her name is Hamara of McClellan, she is yellow dun and has a mind of her own. And what gorgeous eyelashes!! She makes her mother crazy trying to keep up with her, but Flo is a good mum and keeps an eye on her. Though Flo is more than happy to share her baby if we should want to take over for awhile!
The sad news is that our old mustang, Dark Alley, died on July 22 of an apparent heart attack. His stable mate, Bonny Bray (donkey) was totally devastated, they had become extremely good friends. Now she is buddying up with Hamara.
We have finally sold the house in Arizona, while we didn't get much for it, at least it's GONE!! The process of moving was intense, what a wonderful feeling when we were finished.
A week after we got done with the Big Move, Flo went into season. We had a week of noise and excitement, hoped she was pregnant as she did not repeat the experience.
On August 2ne, we broke ground for the new house. Clearing the land, the foundations, the trusses and the roof sheathing, were all done by professionals while we did the basic carpentering. By the end of the year the house was up and moderately water-tight though still a shell.
2009
A'Bhaisteir has received his stallion Artificial Insemination Licence from the Highland Pony Society. While the details still need to be worked out with the vet, this expands his capabilities though he would still rather have a girlfriend!

Fionchoire has blossomed out into a really fun pretty pony. She has A'Bhaisteir worshipping her from afar, our gelded mustang wrapped around her hoof, and best of all, she is with a jenny who she can bully. Her self-confidence has had a great boost, helping her to become a curious, friendly girl who isn't bothered by much at all.

We have found another donkey, Bonny Bray. She is a teenager, very gentle and calm. She should be a good companion animal for Dark Alley when Fionchoire goes to A'Bhaisteir next spring.

The barn is completed! The concrete-coated siding is up and has been painted, the fire protection system in place and the metal roof is on. Also another field has been fenced in, this one is over 2 acres which means it can be divided up into 3 or 4 smaller fields. This is wonderful as now rotation is possible.


2008


Our little filly Flo (Fionchoire of Talisker) was shipped in late November. Clover was in England to see her getting picked up, she arrived at McClellan on December 21, just in time for Christmas.

Sad news, we lost our burro, Warwick to liver infection. This is devastating to all of us. Dark Alley, the mustang, is taking it hard as they have been stable mates for 23 years.

Big news at McClellan. A'Bhaisteir, our colt, was examined for his stallion license on 6 August 2008. The vet was very impressed even though she was not familiar with Highlands since they are so rare here in America. She said that the inspection required by the HPS was the most complete she has ever done although she has done the same type of inspection for other breeds. We were waiting for the results and got a call at 2am California time from Kate Carnegie who had bred him, telling us that he was approved and the papers were in the post. What wonderful news. Thank you Kate for the kind of ponies that you breed. Next project is to get Flo (Fionchoire of Talisker) shifted from Nicki Barfield's stud over to McClellan.

As of June the barn is dried in!!!!!!! A functional roof and windows and doors. Now all we have to do is fill it with hay for next winter. We are fencing another small one acre paddock next to the barn and as soon as it is finished the herd can start mowing it down.

In April the rain finally lessened and the equines were finally able to go to the lower paddock so that work on the barn could resume. The herd absolutely loves to be in the belly deep grass that all the rain has generated. I guess that is the silver lining to a wet winter.

Mike traveled to Talisker stud in March to do initial ground training with Flo (Fionchoire of Talisker). She is a little scared but once you gain her trust she is very loving. We can't wait until she comes over to the McClellan stud. Hopefully, by this fall.





We made the big move to McClellan in August. A'Bhaisteir (Fergal) is now a California Horse. And loves it. Going from living in the Arctic (Flagstaff is cold enough to qualify) to somewhere more like Scotland is pure bliss.

Right now he has us working hard to build him and his friends a barn. The foundations are in, the lumber should be delivered soon. When he has a nice home then we will arrange to bring him a girlfriend, hopefully this winter or next, watch this space!!

Well its November and the three equines are finally in the new barn paddock with a temporary roof to get out of the endless rain. The barn is still a roofless shell. But work goes on.

2006
In 2006 A'Bhaisteir of Talisker(Fergal) was moved from the Talisker stud near Huntingdon, England, to America. Fergal spent eight days on his big journey. By the time it was finished he was more familiar than he ever wanted to be with just about every type of transportation. By the time he arrived at our home in Flagstaff, Arizona, he looked absolutely shattered. Fergal settled right in with my wild mustang and my wife's wild burro (donkey). They are now one big herd. Since we live in a cold climate they all look so furry!! Fergal is one of the friendliest ponies I have ever met. I am happy to say that eight months after his journey he has developed into a stunning yearling. He is now eighteen months old and starting to look like the image of his sire, Corriegarth Rhiddoroch. A'Bhaisteir's bloodlines are definitely going to be a great addition to the Highland gene pool in America.